Get In Shape With Bodylastics
Support iKwit.org by purchasing your Bodylastics Resistance Bands starting at $45.95 here.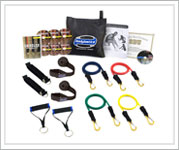 Many of our site visitors, supporters, smokers and ex-smokers are getting in shape with an amazing, easy-to-use system - Bodylastics Resistance Bands.
Check out the features that make this system so successful:
Inexpensive - Prices start at $45.95 For maximum effect, we recommend the Basic Tension XT Set for $53.95. It includes a six DVD box set for an incredible muscle-building workout, plus one bonus DVD.
Save time. You can have a gym body without the gym! This workout is as effective as going to the gym without having to spend time there. Recreate over 140 of the best gym exercises with Bodylastics.
Convenient. FREE daily online workouts! You can work out at home. Bodylastics International streams FREE "live" workout shows every day. Eliminate boredom while working out!
Portable and lightweight Easier to carry with you than weights. Perfect to take on trips and use during overnight stays in hotels.
100% Satisfaction Guarantee Use it for 90 days and if you're not satisfied, return it and get your money back.
Sincerely,
Your iKwit Team
Request email alerts for upcoming coupons, tickets and special offers: